Kim Jong-un, the Holiest Star in the Heavens, a Wise, Wonderful, Unique leader of All He Surveys and God's Gift to the People, Beloved and Respected or He'll Kill You Leader of the Republic of North Korea, says he will be ready by mid-August to fire four missiles, or hurl huge rocks near the US territory of Guam if President Trump doesn't back down from his insane Twitter war.
"We employ the world's largest slingshot" said the General in charge of hurling things at other countries, "And we're not afraid to use it" The slingshot, known as Changdong 1 was built from artificial redwood trees and a 38 year nationwide collection of rubber bands melted together and strung across the upper 'Y' portion of the device. "We have enough people to stretch it to Seoul if necessary" said a spokesperson.
"We will not be 'Twitted' intoned Kim Jong Un, Known to his inner circle as 'One who is not to be mocked or death will follow' as his Generals prepared for the largest 'parade of the century' to show the world that their parades cannot be matched for sheer numbers.
It had been a State secret that previous huge parades have had a circular route so as to link the last marching group with the first to produce a 'never ending' stream of soldiers, sailors and 'ass kicking' women dressed as soldiers wearing the wrong shoes.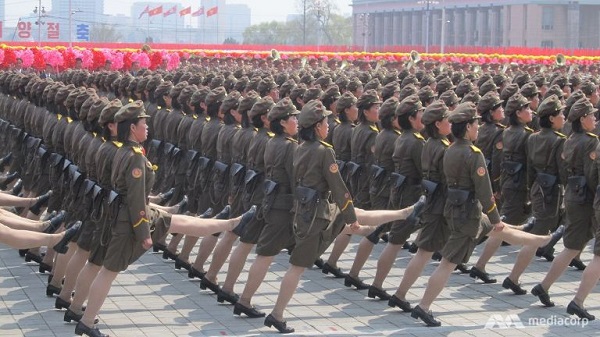 State media said Hwasong-12 rockets would pass over Japan and land in the sea about 30km (17 miles) from Guam if the trajectory was firm and the rockets did not run out of kimchi, the fuel used to power them. Kimchi, a cabbage and radish side dish ordinarily a staple on North Korea's table was discovered to have tremendous gaseous powers and could be utilized as rocket fuel. It is rumored to be so powerful that a person with (kimchi) gas can clear out an entire village in less time than it takes to say 'Holy shit, what was that?' in Korean.
Secretary of State Rex Tillerson sent the North Koreans a message which toned down 45's rhetoric of "fire and fury" and said he meant it only as a kimchi reference.