Here's how we rise up in comedy!  Kristina Wong gives listeners an insight into her 'smash-mind social justice subversive, humorous, and endearingly inappropriate non-traditional, multi-disciplinary approach.'
Having said that, It should be a hell of a show!"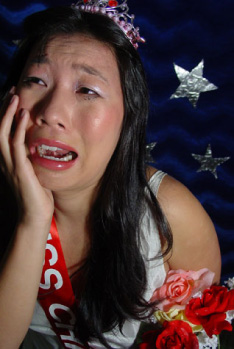 Monday morning Feb 6th at 10AM we have the unique opportunity to host Kristina Wong 'On the Record and Off the Wall' with Buzz Fleischman on Joltradio.
Kristina is a performance artist, actor, comedian and writer who created five solo shows and one ensemble play that have toured across North America and the UK. Her most notable touring show– "Wong Flew over the Cuckoo's Nest" looked at the high rates of depression and suicide among Asian American women and toured dozens of venues across the United States since 2006. Her newest solo show "The Wong Street Journal" navigates White Privilege. She says "some of my best friends are white people. I love their little pink faces"
Kristina's artistic arrow hits the bulls-eye as she skewers the perpetuation of racial and gender stereotypes.  Don't miss this show!
The 'Off the Wall' segment includes a peek into the real conversation between trump and Putin and an 'Open letter to our friends in Mexico from the people of the United States'. As breaking news is released we'll skew it!
Go to http://www.joltradio.org to hear the show and https://www.facebook.com/joltradio/ to see the show as well
February 20th we'll host the music of Mr Ree, a popular South Florida trio comprising the artistry of Terrence Bagby, Daniel Ben Zebulon and Carlos Hernandez. THEY WILL boogie in the studio with their very popular sound as we explore their deep musical history.